Santiago de Compostela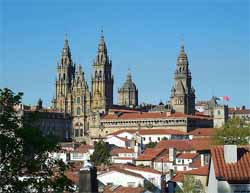 Santiago de Compostela is the capital of the autonomous region of Galicia, Spain.
Today, pilgrims still go by foot to the cathedral of Santiago de Compostela. There are several routes to Santiago de Compostela. The most famous one in France is the one leaving from le Puy en Velay, called the Via Podiensis.
History
After he died, the body of Saint James, one of Christ's apostles, was miraculously found in Galicia. Several hundreds of years later, the hermit Pelagius had a revelation during his sleep and went to search Saint James's relics.
Once the tomb was found, Alphons II, king of the Asturias, decided to build a church next to the tomb.
Since then, many pilgrims go to Santiago de Compostela by foot, to pray there.
Practical information
For more information about the Way of Saint James, visit the website of the interregional cooperation association.
You can also visit the city's official website.
Your contact is Manuel Lopez Aneiros
Agence ORBIS
Republica de El Salvador, 7-1
15701 SANTIAGO DE COMPOSTELA
SPAIN

Phone: +34 981 58 50 59
Fax: +34 981 57 41 29
Website: click here
Credit : Flickr - Creative Commons - Reservasdecoches