Assisi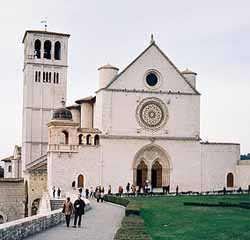 After Rome, Assisi is the second main destination of pilgrimage in Italy. The UNESCO listed the entire city in its World Heritage Sites, which makes it even more valuable and respectable.
History
Francesco Bernardone, better known as Saint Francis of Assisi, is one of the most important saints of the catholic roman religion. He founded the Franciscan order in the city of Assisi which counts almost 30,000 inhabitants.
Comparatively to Santiago de Compostela, the Basilica of San Francesco d'Assisi was built on Saint Francis's tomb. This gothic basilica, of which the erection took almost 30 years in the middle of the 13thcentury, is decorated by many frescos made by Italian masters.
Practical information
Your contact in Assisi is Doctor Mancini.
Agence MAVITUR
Via, Frate Elia, 18
06082 ASSISI (PG)
Italy
Tel: +39 75 812 377
Fax: +39 75 816 351
E-mail : maviturviaggi@tiscalinet.it
Credit : Flickr - Creative Commons - Chris Yunker