Montserrat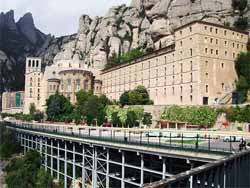 The Moreneta, a black Madonna statue out of wood, is the patron saint of the Catalans. The Spanish people thus go to the Montserrat shrines on the 27th of April to honor the Moreneta.
History
It all began at the end of the 9th century, when shepherds saw a strong white light. This light came back on the four next Saturdays. Along with the rector and the bishop of Manresa, which was at that time, the nearest city to Montserrat, these shepherds found an icon of the Virgin Mary in a grotto. The bishop wanted to move the icon, but the icon was unmovable. Shortly after that episode, a first chapel was built near this grotto.
The current abbey was built in the 19th century and was rebuilt at the exact same place as the older one that was demolished by the Napoleon's army. Fortunately, the abbey's museum could protect its most admirable pieces, such as the "Libre Vermell" (the red book, an anthology of hymns). You will also discover artworks of Picasso or Dali but also treasures brought back from Egypt.
Practical information
You can drive to Montserrat or come with the racked rail, and other funiculars.
For more information about the Montserrat abbey, please visit the official website of the shrines.
Your contact in Montserrat is Ricardo Molgosa.
RELITUR
Calle Sardenya, 259, ant. 1er
08013 BARCELONA
SPAIN

Phone: +34 93 207 32 28
Fax: +34 93 207 32 21
E-mail: rmolgosa@hotmail.com
Credit : Flickr - Creative Commons - _bianconero