Le Puy en Velay
How to get There
By road: RN 88 Lyon-Toulouse RN 102, Paris 514 km, Lyon : 134 km, Marseille : 300 km
By Train: TrainStation SNCF of Puy en Velay Trains TGV on Lyon-Clermont Ferrand/St Etienne TGV au départ de St-Etienne (Paris à 4h15)
By Plane: Le Puy en Velay Loudes aerodrome at 10 mn from Le Puy. Daily service with Paris, Orly Sud except at weekends. Connections with national and international lines.
History and Message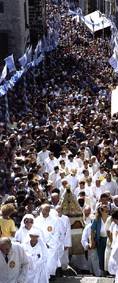 A santuary dedicated to the Virgin Mary was built in Le Puy en Velay as far back as the Early Middle Ages. It rapidly took on a national and European popularity. At the starting point of the road to santiago of Compostella, from the 10th century onwards, the halt at the venerated and mysterious statue of the Black Virgin has become a privileged moment of thanksgiving towards Christ Our Saviour, welcomed by mary as the Son of God. We pray to mary saying "Show us Jesus" your blessed child according to the expression found in the Hymn of Le Puy en Vely, the "Salve Regina". Both the greta people and the crowds of humble believers come here to place themselves under the protection of the Queen of Heaven. Nowadays it is celebrated in splendor on the 15th of August, the feast of the Assumption : the statue of the Black Virgin is carried in procession in the streets of the town. In the cathedral, dedicated to the mystery of the Annunciation, the veneration of the Handmaid of the Lord has aroused a great fervour through the centuries, especially when the feast of the Annunciation on the 25th of march coincides with Good Friday ; it's what is known as the Jubilee. The thirtieth occurrence of this event will take place in 2005.
Tourist Environment
Built by the faith of men, starting point of the roads to Santiago of Compostella, internationally renowned city, its old town witnesses of the richness of its architectural heritage and its history. An important town from an artistic and cultural point of view a congress and meeting centre, situated at the heart of a region of wide open spaces, Le Puy en Velay is an ideal starting point to discover a region which offers a wide range of leisure activities in the heart of the countryside.
Many varied activities are proposed throughout the year : the Carnival in march, the 15 km road race on the 1st of may, the musical and the international folklore festivals in july, the Renaissance celebrations of the "Roi de l'Oiseau" in mid september, the European hot-air balloon meeting in november..
The fame of Le Puy en Velay is also linked to Fuseau lace, handmade for centuries. Its skills and technique have been preserved since 1976 thanks to the creation of a National Workshop and Conservatory of Lace which perpetuates the tradition.
Green lentils, grown in the area, constitute a highly prized ingredient in many chefs' kitchens. Finally, the "Verveine verte", a digestive liqueur, has been famous in Le Puy since the19th century.
In a naturally protected environment, Le Puy en Velay is an attractive town to live in where you will be greatly welcomed.