The sanctuary of Nevers, France

How to get There
By road: N 7 (direction Paris or Lyon) N 76 (direction Bourges) N 79 (direction Paray-Le-Monial) D 979 (direction Autun)
By Train: Nevers Transtation, direct lines from Paris, Clermont-Ferrand, Dijon, Nantes, Lyon…
By Air: Airport of Nevers, maximum capacity: ATR 72 - 72 Places
History and Message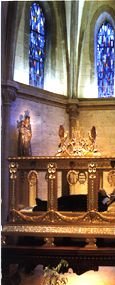 Bernadette Soubirous, born at Lourdes in 1844, was 14 when the Virgin appeard to her at the Rock of Massabielles.
In order to futfil her desire for a religious life, Bernadette arrived at St Gildard, the house of the Sisiter of Charity at Nevers on 7 july 1866. She had previously met the sisters at the hospice at Lourdes. She stayed at Nevers, in the Congregation's Mother House for 13 years. Her simple and ordinary life was entirely consacratd to God in a chapel in the garden.
It was rediscovered intact in 1909 and since 1925 has reted in a shrine in the shapel of St Gildard. "I will not live one moment, unless I can spend it loving". St Bernadette.1873.
Many pilgrims and tourists of all nationalities come to Bernadette…she never ceases to tell us : "God is our father, he has an infinite tenderness for each of us".
Tourist Environment
Nevers is not only a town of " history and art", but also a town of "artists and artisans". It has a rich and varied heritage which you can discover in various ways (tourist documents, guided visits, pedestrian tourist circuits). In the 17th century it became France's faience capital, after the Duke of Nevers introduces this art form the century before. Louis de Gonzague came from Mantoua in Italy. Today, outstanding pieces are displayed in the Frederic Blandin town museum. This art form is still practiced, and craftsmen produce pieces both in old and contemporary styles.
The Duke's palace and the cathedral are the most important monuments, and dominate this town situated on the Loire. You can find here all styles of religions architecture from the fifth right up to the twentieth centuries. In the Tourist Office you can obtain a brochure, " Nevers, pilgrimage and religions art " which explains these different styles.
Not far from the town is La-Charite-sur-Loire, with its abbey church and monastery. The surrounding countryside is rich in Romanesque monuments in the Burgundian style. There is also the Formula One race track, Nevers Magny-Cours, with various attractions for fans of motor-racing : the Ligier Museum - a thematic museum ; a cinema library and world unique visio-centre.
There is also a go-carting track right next to the race track. Local gastronomy ? There are excellent local products (Charolaise beef, fresh fish from the Loire, goat's milk cheese, honey .. ) served in excellent restaurants. Local confectionery too "Negus" and " Nougatine" will surprise even the most refined palates.
To help you discover all this, the Tourist Office has different documents and leaflets. There are guided visits in French, English, German, Italian and Spanish.
For your pilgrimage
At St bernadette reception centre, a team of nuns and lay workers will help organise your stay and discover Bernadette in the best way for you, and will help you on the path she showed us.
There are different means at your disposal :
Museum and audio-visuel display Spirituel accompaniment for individuals and groups. Documents in various languages.
Masses in French Daily : 8: am and 11:30 am sundays ans Holydays : 8: am and 10: am.
Opening times april-october from 7: am to 7:30 pm November - march from 7:30 am to 12 noon and 2: pm to 7: pm.
For any information conerning reception of groups, please contact Espace Bernadette Soubirous Nevers, 34 Rue Saint Gildiard 58000 NEVERS