Transport Lalubie Manterola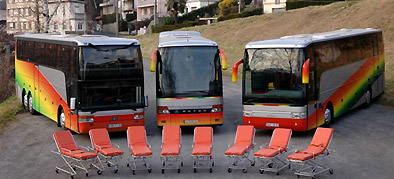 TRANSPORTS LALUBIE MANTEROLA
58 avenue Peyramale
65 100 LOURDES - FRANCE

Chemin de l'Arrouza
65 100 LOURDES - FRANCE

www.lalubiemanterola.com

Tel: +33 (0)5 62 94 24 82
Fax: +33 (0)5 62 94 54 21
NEW
We are expanding our range of transport services for the sick and disabled.
As of April 2000, we will be offering a coach which has been specially adapted for carrying stretcher- and wheelchair-bound disabled persons.
Naturally, the coach is equipped with toilets and a galley .
COACH TRIPS
Tourist travel in FRANCE and OVERSEAS.
School trips: Sporting events, school outings, senior citizens, work committees, ski schools, etc.
Excursions to the areas surrounding Lourdes, the Pyrenees and Atlantic coast.
TRANSFER between the SNCF train station / Airports and hotels in Lourdes.
DELUXE COACHES: WC, video, bar, air conditioning, 25 to 56 seats.
EXPERIENCED DRIVERS: who speak English and Italian and have an in-depth knowledge of the region.
LUGGAGE TRANSPORTATION
Sick persons' luggage ferried from the SNCF train station and the airport to the Lourdes in-coming agencies. Luggage belonging to stretcher bearers and young people staying in the various hotels and hostels in Lourdes.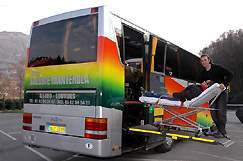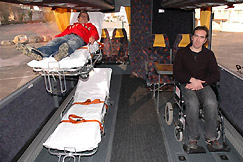 SERNAM AGENT
We operate vehicles from 3 to 7 tonnes, equipped with hydraulic tailgate.
We will be happy to discuss your requirements and provide you with a quotation .