Transport ACTL Car Alliance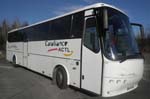 Autocars des Circuits Touristiques Lourdais
Contact us 24 hours a day
Tel: +33 (0)5.62.94.10.78
Fax: +33 (0)5.62.94.02.66

Or come and see us:
3, Avenue du Paradis, Lourdes.
Ask for Bernard or Georges.
Created in 1972 by a Lourdes resident, our company specialises in Excursions in the Pyrenees. Our fleet of vehicles is highly diverse, from a 9-seater Ford Transit to the 78-seat VanHool Astromega for large groups.
Our coaches have air conditioning and toilets, plus video on request.
Some of our drivers speak German, English, Spanish, French, Italian, or even Maltese.
Religious tourism is part of our range of activities, with trips to Avignon, Barcelona, Fatima, Nevers, Paris, and St. Jacques de Compostelle.