The Médous grottos
The poem of Médous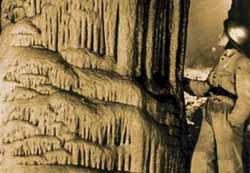 There is an ancient poem about the Médous grottos:
"Do you know Médous nearby Bagnères?
Peaceful Médous and its moving leafage
And the park and its walls were a convent,
And its big chestnut tree going up so high,
And the stream springing out of the secret grotto,
Suddenly bending in the Adour,
So near of its spring.
(The Fairies' Night)
History of the Médous grottos
Situated between Bagnères de Bigorre and Sainte Marie de Campan, along the departmental road 935 leading to the Col d'Aspin and Col du Tourmalet, the incredible Médous grottos were discovered in 1948 and belong to the most beautiful natural sites in France.
F. HERZOG, a Swiss speleologist listed them in his magazine STALACTITES in the September 1951 release and called them "Third in the world".
In the Médous grottos, on a total 1-km path, you will admire numerous stalactites, stalagmites as well as large calcite slides (calcium carbonate), of which the extravagant formations evoke waterfalls, pipe organs, draperies and strange architectural constructions. The visit includes an underground boat journey on 250 meters, on the river Adour.
On the rock of which the re-emergence of the grottos springs, the Virgin Mary appeared to a young local shepherd. After the terrible plague epidemic in 1588 that killed most of the Bagnères inhabitants, Médous became the most important shrine dedicated to the Marial Cult.
Practical information
We advise you to dress warmly for this visit.

Grottes de Médous
60 Route des Cols
65200 Asté
FRANCE
Phone: +33 5 62 91 78 46
E-mail: grottes.medous@wanadoo.fr
Website: click here