Bartrès, in the footsteps of Bernadette
Discover Bartrès, a little village in the mountains, and its surroundings where Bernadette Soubirou's spent her childhood.
Bartrès, an authentic little village
Bernadette first arrived in Bartrès in October 1845, when she was left to her nanny's care. The latter, Marie Lagües, had just lost her son and was looking for an infant to take care of.
Bernadette stayed 9 months there then returned shortly to her parents' in Lourdes. She was then brought back to Bartrès where she stayed until she was 21 months old. Later on, she went 2 to 3 times a year to visit her nanny.
In September 1857, she is 13 years old when her nanny, needing her help, asks her to come back to take care of her children and keep a few sheep and cows. Bernadette then went back to her family in 1858, the year the Virgin Mary appeared to her.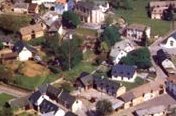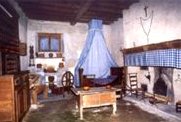 Getting to Bartrès
Leave Lourdes from the Route de Tarbes, and drive through Adé. There you will find Bartrès, hidden in a large corrie. At the exit of Bartrès, you will find on your left the sheep barn and the thick grass where Bernadette used to keep her nanny's sheep.
Take the twisting road to drive back to Lourdes, and contemplate the magnificent panorama of the city, the Lézignan plain and the Pyrenees' chain.
At the entrance of Lourdes, take right to the route de Pau and Pontacq to the Lourdes Lake, a large natural lake with a 6km perimeter, surrounded by heather.

The legend says that at the place of the lake, filled with pikes and eels, there was a city that the divine wrath has flooded because of its excesses.
Practical map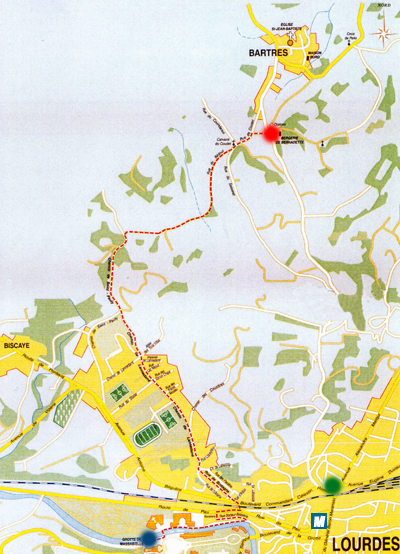 Go from Bartrès (red point) to the Massabielle Grotto (blue point) having a stop at the Hospice (green point) where Bernadette Soubirous stayed.
Practical information
A mass can be said for groups in the Bartrès church, where you can still find an altarpiece of which Bernadette used to contemplate the paintings in relief representing painted and golden characters. For the mass in Bartrès, please contact the Pastourelle nuns at +33 5 62 94 10 41.